Double Outlet Right Ventricle
Anatomical description
The term double outlet right ventricle refers to an uncommon defect where both great arteries arise above the right ventricle. In most cases of double outlet right ventricle, the great vessels are found lying side by side in a D-transposition configuration with the aorta on the right and pulmonary artery on the left. Rather than its own single anomaly, it is associated with other cardiac abnormalities. A VSD is almost always present and 75% of patients have some degree of pulmonary stenosis. Transposition of the great vessels, septal defects, atrioventricular atresia, and a variety of valvular problems are also commonly seen with a double outlet right ventricle defect.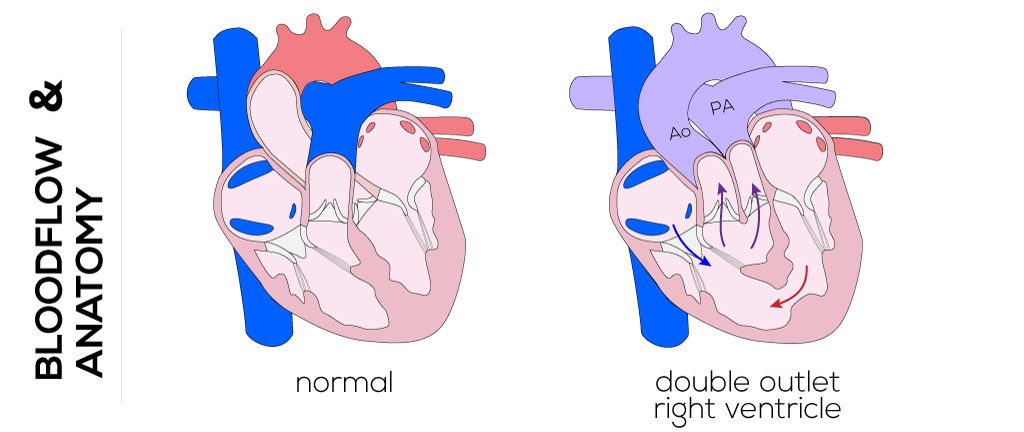 (Click picture to show/hide bloodflows)
Pathophysiology
The hemodynamics involved with double outlet right ventricle are dependent on the anatomy of the great vessels and associated defects. Decreased arterial oxygen saturation is almost always present, but as a result of wide variation in anatomy, patients may or may not appear cyanotic and/or develop congestive heart failure. Patients may even be asymptomatic altogether. Transposition-like physiology occurs with inadequate circulatory mixing of oxygenated and deoxygenated blood.
Therapy
Management of double outlet right ventricle in early infancy depends on associated defects. When operative therapy is required, the type of surgical correction depends on the anatomic characteristics of the defect and amenability. The goal of the surgical treatment is complete anatomic repair, which means connecting the left ventricle to the aorta, the right ventricle to the pulmonary artery, and closure of the VSD. Principles of open-heart surgery such as cannulation, cardiopulmonary bypass, hypothermia, myocardial protection, and avoidance of the conduction tissue are utilized. The right ventricle is accessed through the tricuspid valve and/or a right ventriculotomy.
An example: In the case of a sub-aortic VSD, the technique of intraventricular tunnel repair is preferred, connecting the left ventricle with the aorta. If the anatomic morphology is not eligible for intraventricular repair or pulmonary artery stenosis occurs, the pulmonary valve is sacrificed which aims to create space for placing an intraventricular baffle. Consequently, the right ventricle is then connected through an extracardiac conduit to the pulmonary artery (Rastelli operation).