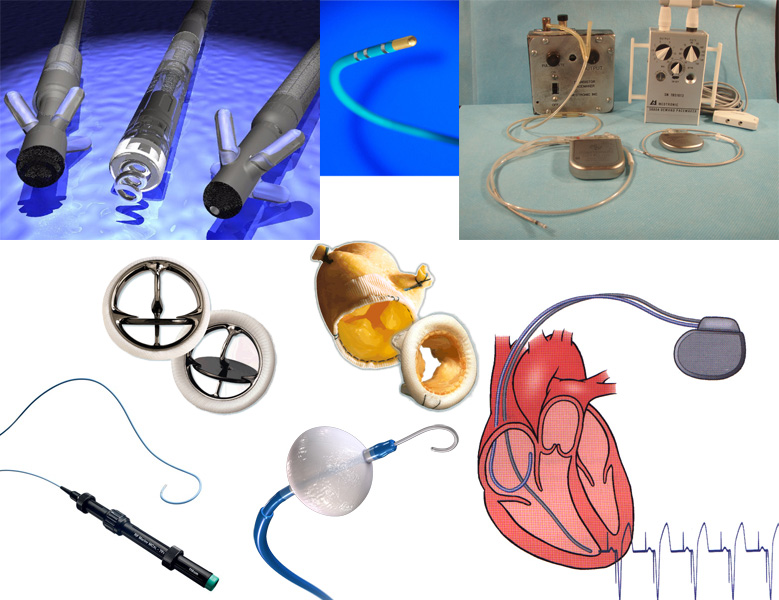 This tutorial will highlight some of the devices that we have utilized in the Visible Heart Laboratory.
Catheters have numerous applications in cardiac treatments. They are used to diagnosis patients, deliver treatments, and implant devices. This tab contains videos of electrical mapping catheters, monitoring catheters, ablation catheters, and lead delivery catheters in functional human and animal hearts.
Pacing Systems are used to deliver electrical energy to stimulate the heart in the form of pacing pulses or higher field voltages to elicit defibrillation. This tab includes videos of pacing leads, defibrillation leads, heart failure leads, epicardial leads, and lead extraction methods in functional hearts.
Valve replacement is a treatment for patients with dysfunctional valves. The most common indications for a valve replacement are regurgitation (leaky valve) and stenosis (narrowed valve opening). This tab contains videos of surgical mechanical valve replacements, surgical tissue valve replacements, and transcatheter tissue valve replacements.
A stent is a medical device made up of wire mesh that provides scaffolding to support the wall of the artery and keep its lumen open and free from the buildup of plaque. Balloon angioplasty and coronary stents have prevented numerous patients from undergoing coronary artery bypass graft surgery, which can be more costly and painful. This tab includes videos of stent deployment in the coronary arteries of human and swine hearts.
The need for structural repairs of the heart can be due to congenital deformities or the progression of cardiac disease. These structural problems can be repaired during open-heart procedures requiring cardiopulmonary bypass, using minimally invasive surgical approaches (off-pump), or transcatheter delivery systems. This tab includes videos of mitral annuloplasty and the edge to edge procedure.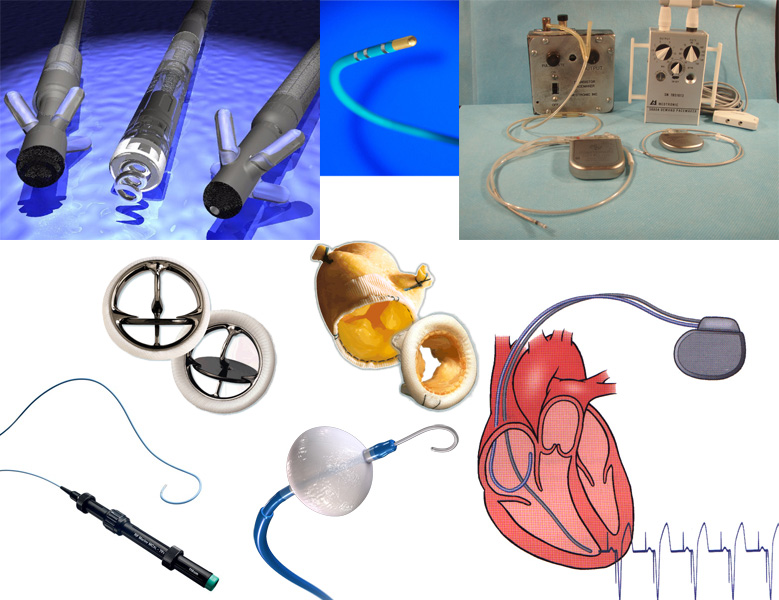 En este tutorial se destacan algunos de los dispositivos que hemos utilizado en el Visible Heart Laboratory.
Catéteres tienen múltiples aplicaciones en el manejo de patologías cardiovasculares. Se utilizan para diagnóstico, administración de tratamientos y colocación de dispositivos. Esta pestaña contiene videos de catéteres para mapeo, catéteres para monitoreo y catéteres para ablación en corazones funcionales de humanos y animales.
Sistemas de estimulación se utilizan para suministrar energía eléctrica para estimular el corazón en forma de marcapasos o con voltajes más altos para provocar la desfibrilación. Esta pestaña incluye videos de electrodos de marcapasos, electrodos de desfibrilación, electrodos para la insuficiencia cardíaca, electrodos epicárdicos y métodos de extracción de electrodos en corazones funcionales.
Reemplazo valvular es un tratamiento para pacientes con valvulopatías. Las indicaciones más comunes para el reemplazo de una válvula son regurgitación y estenosis. Esta pestaña contiene videos de reemplazos quirúrgicos de válvulas mecánicas y biológicas; y reemplazos de válvulas biológicas transcatéter.
Stent es un dispositivo médico hecho de una malla metálica que proporciona una estructura para dar soporte a la pared de la arteria, mantener su lumen permeable y libre de la acumulación de placa. La angioplastia con balón y los stents coronarios han evitado que cantidades de pacientes sean sometidos a cirugía de revascularización miocárdica (coronary artery bypass graft [CABG]) que puede ser más costosa y dolorosa. Esta pestaña incluye videos de colocación de stents en las arterias coronarias de corazones humanos y porcinos.
Reparación de defectos estructurales la necesidad de este procedimiento del corazón puede deberse a deformidades congénitas o a la progresión de una enfermedad cardíaca. Estos problemas estructurales pueden repararse a través de cirugías a corazón abierto que requieren bypass cardiopulmonar, utilizando cirugía mínimamente invasiva (sin bypass) o sistemas de implantación transcatéter. Esta pestaña incluye videos de anuloplastia mitral y la técnica "borde a borde" (edge to edge).