Leads are used to deliver electrical energy into the heart in the form of pacing pulses or higher field voltages to elicit defibrillation. An array of catheters, stylets, and/or guide wires can be used to deliver leads to their desired locations within the heart. Once there, the leads can be passively fixed with tines in the trabeculations of the heart or more commonly, actively fixed using a helix that can be rotated into the heart tissue.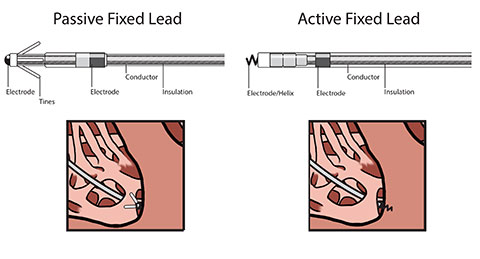 Pacing Leads: Low power bradycardia leads are typically implanted in the right atrium and/or the right ventricle. The most common indications for these pacemaker leads are
Symptomatic bradycardia: Slow heart rate with symptoms such as syncope (fainting), dizziness, fatigue, and chest pains.
Sick Sinus Syndrome: The heart's sinus node does not function properly. The sinus node consists of specialized cells in the right atrium that act as the natural pacemaker of the heart. Sick Sinus Syndrome can entail rhythms that are too slow and too fast.
AV block: Problems with signal conduction from the atria to the ventricles. As a result, the heart can beat too slowly.
Chronotropic Incompetence: The inability to adjust the heart rate in response to activity.
Defibrillation Leads: High power defibrillation leads are used to deliver high and low power therapies to treat dangerously fast ventricular heart rhythms. These leads are typically placed in the apex of the right ventricle.
Fast ventricular rates (ventricular tachycardia) can be treated with antitachycardia pacing, where the lead delivers electrical stimuli at a rate faster than the intrinsic ventricular rate in order to obtain control and subsequently decrease the rate. If antitachycardia pacing is not successful or ventricular fibrillation is detected, the lead can deliver a high energy shock to reset the heart's signal conduction. Ventricular fibrillation involves fast erratic impulses that do not allow the ventricles to pump. If ventricular fibrillation is not treated immediately sudden cardiac death can occur.
Defibrillation leads can have two coils, one in the right ventricle and one in the superior vena cava, or one single coil in the right ventricle. The connector can be a DF-4 connector or a trifurcated DF-1 connector depending on the configuration of the associated device can.

Heart Failure Leads: Heart failure leads can be used to treat heart failure patients with electrical dyssynchrony. A typical cardiac resynchronization therapy system consists of a right atrial pacing lead, a right ventricular pacing or defibrillation lead, and a heart failure lead in a coronary vein (see Coronary System Tutorial/Biomedical Applications of the Coronary Venous System).
Epicardial Leads: When endocardial pacing is not an option, leads can be placed on the epicardial surface of the heart. Leads can be placed via a subxiphoid approach, left thoracotomy, or median sternotomy. Epicardial leads may be used in pediatric patients.
Lead extraction: Lead extraction can be performed as a response to (but not limited to) infection, an occluded vessel, an identified risk caused by the system (such as perforation, extracardiac stimulation, pain, arrhythmia), dislodgement, or removal of non-functional leads [1]. Lead extraction can be performed with simple traction or traction with a locking stylet. More difficult chronic leads may require laser, rf, or mechanical sheaths for extraction.
1. Epstein, Laurence M., Richard A. Friedman, and E. H. Charles. "Transvenous Lead Extraction: Heart Rhythm Society Expert Consensus on Facilities, Training, Indications, and Patient Management."
Los electrodos se utilizan para suministrar energía eléctrica al corazón en forma de marcapasos o utilizando voltajes más altos para provocar la desfibrilación. Se puede usar una serie de catéteres, estiletes y/o guías para implantar los electrodos en las ubicaciones deseadas dentro del corazón. Una vez allí, los electrodos pueden fijarse pasivamente con patillas de anclaje en las trabeculaciones del corazón o, más comúnmente, fijarse activamente mediante una hélice que se puede girar en el tejido cardíaco.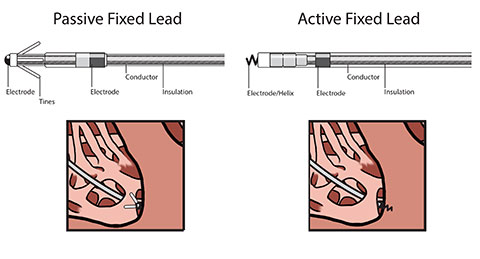 Electrodos de estimulación o marcapasos: los electrodos de baja potencia para el manejo de bradicardia se implantan típicamente en la aurícula derecha y/o el ventrículo derecho. Las indicaciones más comunes para estos cables de marcapasos son
Bradicardia sintomática: frecuencia cardíaca lenta con síntomas como síncope, mareo, fatiga y dolor torácico.
Síndrome del seno enfermo: el nodo sinusal del corazón no funciona correctamente. El nodo sinusal consta de células especializadas ubicadas en la aurícula derecha que actúan como marcapasos natural del corazón. El síndrome del seno enfermo puede implicar ritmos demasiado lentos y demasiado rápidos.
Bloqueo AV: problemas en la conducción de señales eléctricas desde las aurículas hasta los ventrículos. Como resultado, el corazón puede latir demasiado lento.
Incompetencia cronotrópica: incapacidad para ajustar la frecuencia cardíaca en respuesta a la actividad.
Electrodos de desfibrilación: los electrodos de desfibrilación de alta potencia se utilizan para administrar terapias de alta y baja potencia para tratar ritmos cardíacos ventriculares rápidos peligrosos. Por lo general, estos electrodos se colocan en el ápex del ventrículo derecho.
Los ritmos ventriculares rápidos (taquicardia ventricular) se pueden tratar con estimulación antitaquicardia, en la que el electrodo envía estímulos eléctricos a una frecuencia más rápida que la frecuencia ventricular intrínseca para obtener el control y posteriormente disminuir la frecuencia. Si la estimulación antitaquicardia no tiene éxito o se detecta fibrilación ventricular, el electrodo puede administrar una descarga de alta energía para restablecer la conducción intrínseca del corazón. La fibrilación ventricular implica impulsos erráticos rápidos que no permiten el bombeo efectivo de los ventrículos. Si la fibrilación ventricular no se trata inmediatamente, puede producir una muerte cardíaca súbita.
Los electrodos de desfibrilación pueden tener dos bobinas, una en el ventrículo derecho y otra en la vena cava superior, o una única bobina en el ventrículo derecho. El conector puede ser un conector DF-4 o un conector DF-1 trifurcado dependiendo de la configuración del dispositivo asociado.

Terapia de resincronización cardiaca: estos electrodos se pueden implantar en pacientes con insuficiencia cardíaca con disincronía eléctrica. Un sistema típico de terapia de resincronización cardíaca consta de un electrodo de estimulación auricular derecha, un electrodo de desfibrilación o estimulación del ventrículo derecho y un electrodo en una vena coronaria.
Electrodos epicárdicos: cuando la estimulación endocárdica no es una opción, los electrodos se pueden colocar en la superficie epicárdica del corazón. Los electrodos se pueden colocar mediante un abordaje subxifoideo, toracotomía izquierda o esternotomía media. Los electrodos epicárdicos se pueden utilizar en pacientes pediátricos.
Extracción de electrodos: la extracción del electrodo se puede realizar en caso de (pero no limitada a) una infección, un vaso ocluido, un riesgo identificado causado por el dispositivo (como perforación, estimulación extracardiaca, dolor, arritmia), malposición o extracción de electrodos no funcionales [1]. La extracción del electrodo se puede realizar con tracción simple o tracción con un estilete de bloqueo. Los casos más difíciles pueden requerir láser, RF o tracción mecánica para su extracción.
1. Epstein, Laurence M., Richard A. Friedman, and E. H. Charles. "Extracción de cables transvenosos: consenso de expertos de la Heart Rhythm Society sobre instalaciones, capacitación, indicaciones y manejo de pacientes."